In doing your research, you may wonder, "What size storage unit do I need?" Our helpful storage unit size guide was designed to help you choose the right size of unit for your specific needs. From small storage units for seasonal items like holiday decorations and sports equipment to large, warehouse-sized units for business operations, we have you covered.
No matter what unit size you choose, you will benefit from self-storage with a differenceTM— super-clean, well-maintained facilities, 5-star customer service, extended gate hours and honest pricing.
Choose Your Storage Unit Size
5×5 Storage Units
Our 5×5 and smaller self-storage units work well for storing miscellaneous items, including sports equipment, clothes, camping gear, kids' toys, or for wine storage. A small chest of drawers, twin mattress set and other small personal items fit in these small storage units. These units are also great for storing seasonal items and are helpful when you just need a little extra space at home. We also have even smaller units, including lockers.
5×10 Storage Units
We suggest renting a 5×10 storage unit when you have approximately one room's worth of items to store. These units are approximately the size of a small walk-in closet. Store a queen-sized bed set, a dresser, several boxes and additional personal items in these units. We also recommend these units for seasonal items such as sports equipment and holiday decorations.
Medium Self-Storage Units
10×10 Storage Units
Choose a medium-sized storage unit when you have the contents of one to two rooms to store. These units fit mattress sets, sofas, dressers, desks, bookcases, a washer and dryer, refrigerator, patio furniture, boxes and other miscellaneous items. We recommend these units when moving from a dorm room, studio or one-bedroom apartment or remodeling part of your home.
10×15 Storage Units
Renting a 10×15 storage unit gives you space almost as large as a one-car garage. We recommend these units when you have the contents of three rooms or a two-bedroom apartment to store. Items that fit in these storage units include mattress sets, furniture, appliances, boxes, sports equipment and small business items including extra inventory and equipment. They are great for personal or business storage.
10×20 Storage Units
If you're moving, on deployment, going on an extended trip, or need more space for your business, our large storage units offer plenty of space for your personal or commercial needs. Store the contents of a three- to four-bedroom house, including mattress sets, furniture, appliances, large-screen TVs, drawers and boxes. These storage units are also great for extra inventory and business supplies.
10×30 Storage Units
We suggest our largest storage units for business and personal storage. Store the contents of up to six rooms in these storage units. Our largest storage units can accommodate oversized furniture, appliances, patio furniture, sofas, mattress sets, many boxes, garage items, sports equipment, and are great if you're building a new house or you're in the process of moving.
RV, Boat and Vehicle Parking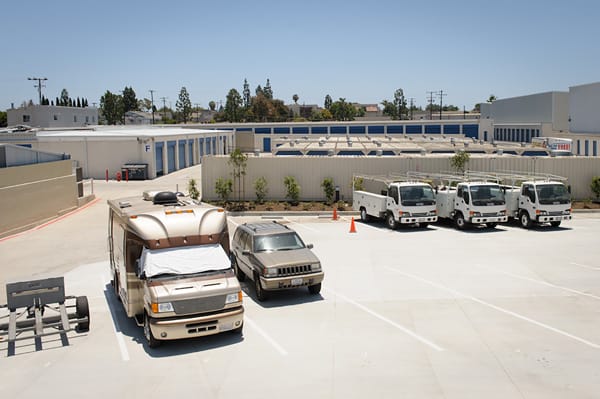 Up to 25' Parking
SPS locations that offer small vehicle parking typically have parking spaces that measure between 15 feet and 25 feet. We recommend these smaller parking spaces for cars, trucks, motorcycles, ATVs, snowmobiles and small trailers. If you need to park a company vehicle, these spaces provide an extra parking space for your business. Many of our large, drive-up storage units can also be used for vehicle parking and storage.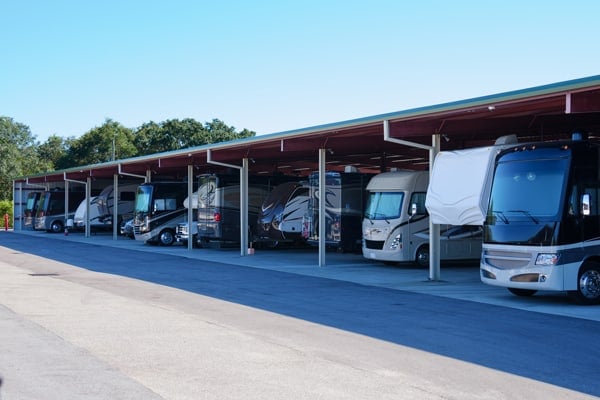 Up to 45' RV Parking
Several SPS facilities offer outdoor RV and boat parking spaces in a wide range of sizes, up to 45 feet in length. We recommend these long parking spaces for RVs, boats, motorhomes, campers and trailers. Our facilities offer plenty of space to maneuver your adventure vehicles when coming or going.
What Size Storage Unit Do I Need?
It's important to choose the right size of storage unit for your specific needs. In order to find the best fit, first make a list of the items you plan on storing, including any awkwardly shaped items. Next, estimate the number of boxes you'll need. If you will be storing a vehicle, take measurements in order to find the right size of storage unit. If the sizes and descriptions above don't answer the question of, "What size storage unit do I need?" refer to this list of common types of items and sizes of living spaces that you need self storage for.
King-Sized Mattress Set
King-sized mattress sets require additional space due to their larger size. Choose a medium-sized storage unit like the 10×10 to store your king-sized bed. This unit will also accommodate furniture, a home entertainment center, a washer and dryer, boxes, and much of the content from a two-bedroom apartment.
Holiday Decorations, Seasonal Sports Equipment, Dorm Room Contents
Choose a 5×5 or 5×10 storage unit based on the size of your sports equipment and the amount of seasonal decor you have. Consider these sizes of storage units for camping gear, off-season clothing, gardening supplies, or the contents of a small dorm room without furniture.
Studio or 1-Bedroom Apartment
We recommend the 5×10 storage unit for the contents of smaller homes. This walk-in-closet-sized storage unit holds a queen-size mattress set, a dresser and TV, and has ample space for boxes and home goods from your studio or one-bedroom apartment.
2-Bedroom Apartment
For two-bedroom apartments, we recommend a 10×10 storage unit, which can accommodate two bedroom sets including mattresses, dressers, bed frames and nightstands. If you have additional furniture from the living room, kitchen and dining room, you may need the larger 10×15 storage unit.
2- to 3-Bedroom House
The 10×15 units are slightly smaller than a standard one-car garage and snugly hold the contents of a two- to three-bedroom house. If you have many belongings, choose the larger size for additional space and room to move.
4- to 5-Bedroom House
For larger homes, we recommend our largest storage units to fit the contents of your four to five-bedroom house. These units are the size of an oversized one-car garage and can fit everything from your larger home, including large appliances, mattress sets, home entertainment centers, furniture and plenty of boxes.
Storage Unit for a Motorcycle
Motorcycles can be stored in 5×10 storage units if you only have the vehicle itself and a few accessories like helmets and jackets. For multiple motorcycles and extra gear, consider a 10×10 unit or larger. We recommend climate-controlled storage units for motorcycles.
Boat and RV Storage
Several SPS locations offer outdoor parking spaces, covered or uncovered, depending on the facility. Other locations offer indoor parking for boats and small RVs, trailers and motorhomes in their largest sized units, which are often 10×30.
Cars and Trucks
If you need parking for a car, truck, or trailer with snowmobiles or jet skis, we recommend a 10×20 storage unit, which is approximately the size of a standard one-car garage. You can park a car in these spaces and still have room for extra boxes and seasonal home goods.
Find an SPS Location
Watch our storage size guide videos to get a visual idea of what size storage unit you need. The staff at each of our self-storage facilities can also answer any questions you may when determining what size you need. All of our storage units offer state-of-the-art security, honest pricing and a commitment to outstanding customer service. Find an SPS storage location near you today.
Secure Your Unit Today
Looking for a storage unit near you?
See which storage units and special discounts are available.